Livin' Alive On The Island Of Amelia

Listening Directions:
Click the Gray circle button below if you have a dial-up connection.
Click the Green circle button below if you have DSL or Cable connection (higher quality sound).
Click the song Photo below to Download the song sample.
Click LYRICS link below (next to the song Title) to read the lyrics to the song.
Livin' Alive On The Island Of Amelia LYRICS

Play Lo Fi song sample
Play Hi Fi song sample
Buy CD: Livin' Alive
Reggae-flavored Pop. Fun, flattering lyrics.
A great sing-a-long song about a cool place.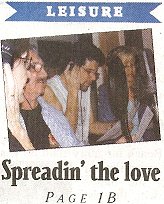 Read
the wonderful local
newspaper coverage of
Livin' Alive.
Download Directions:
A full length CD-quality downloadable songfile (.mp3) is available from this page
for a small Paypal payment $4.95. Click Buy Now button below to proceed.
After payment you will be directed to the file download.
If you'd like a free full length copy of Livin' Alive, click HERE to download in Lo Fi quality (.mp3).
As vendors around town agree to carry it, the following list of locations will be updated:
CD single now available at locations shown below:
1. AMFM Music (Island Tobacco & Trade) 316B Centre St. between 3rd and 4th St's,
Fernandina Beach, FL. Mike and Sherry Garbarini, 904-261-7222.
2. Books Plus, 107 Centre Street, Fernandina Beach, FL. Don and Margo Shaw.
(904) 261-0303, 904-261-5136.